Scuba Certification Programs
TechReational formats at a higher standard
Frequently Asked Questions
What equipment am I required to buy for SCUBA class?
---
None of our students are required to pre-purchase equipment before classes start. For our group classes we charge $69 per day for the rental or an entire equipment scuba system. Most student are able to complete the open water program in 2-3 days. Once you have completed the program you will be rewarded the entire rental costs back in the form or credit towards a new equipment system purchase. Equipment rental fee's are included in the price of all Private Classes. When you are ready to buy, we offer exclusive "student only" discounts you won't even find online.
---
Where will I be learning and diving during this class?
---
100% Online Practical Your entire practical training is an app based e-learning experience. We partner with the only agency in the world that does not sell paper and plastic good. RAID is the most enviromentally friendly training agency in the world. Lake Denton - Avon Park, Florida We now do almost all of our introductory training on-site at Lake Denton. We do not spend any time in a classroom with walls. 100% of your training takes place at the dive site!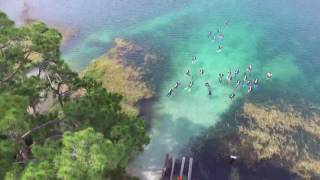 ---
---
One of our obsessive passions is participating in our Diveheart outreach program. At Unique Scuba we volunteer as well as teach all levels of adaptive scuba for both those with disabilities and their dive buddies.
Diveheart works to build confidence, independence and self-esteem in children, adults and veterans of all abilities through scuba diving, scuba therapy and related activities. Utilizing certified adaptive dive buddies, Diveheart provides safe and inclusive activities for adaptive divers to enjoy the wonders of the aquatic world. Diveheart focuses on abilities not disabilities to instill the can do spirit, it is our hope to inspire participants to take on challenges that before might have seemed impossible.
"Clint was able to train our family around a hectic schedule. We had a blast and will continue to dive as a family for many years."
After doing a lot of online research and reading a lot of reviews, we decided to give Unique Scuba a call. Clint seemed happy to spend almost an hour on the phone answering all my questions. Learning to dive was something I always wanted to do, and I'm happy we found Unqiue Scuba."